The Most Essential Air Ambulance and Train Ambulance Services in Varanasi
The city Varanasi is situated on the bank of river Ganga in the state of Uttar Pradesh. The city is commonly known as Benaras or Banaras. It is the holiest place of Hinduism.Varanasi is hub of service and goods industry and the city is ranked as 6th position in terms of job creation. Thus many people arrive in the city. You can now easily grab the benefit of the most essential air ambulance services in Varanasi in the situation of the real needs. As such medical facility is very essential for the city. Thus in Varanasi, Panchmukhi Air & Train Ambulance Services has set up its center. It has been playing a very vital role in transferring patient to any required health care center at the time of emergency.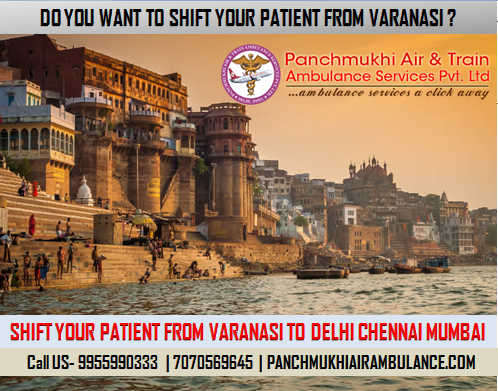 We shift many patients from Varanasi by Charter Air Ambulance and Train Ambulance:-Click on Images and See
Transfer your patient from Varanasi to Chennai, Delhi, Mumbai at lowest cost with us. Call us today for best charter air ambulance in Varanasi and Train ambulance from Varanasi.
Book Online or Offline the Below Panchmukhi Services from Varanasi:
– Low cost Air ambulance services in Varanasi
– Advanced Train ambulance services from Varanasi
– Trusted Road ambulance services
– Reliable air evacuation services