Now Enjoy the Vital Air and Train Ambulance Service in Mysore
The city of the royals in the history of India is none other than Mysore. The natural beauty and the manmade attractions force the thousands of the visitors and the nature lovers to visit the city on per day basis. The increasing number of the people and visitors also simultaneously increases the risk of the different kind of risks including the unwanted accidents take place accidentally anytime.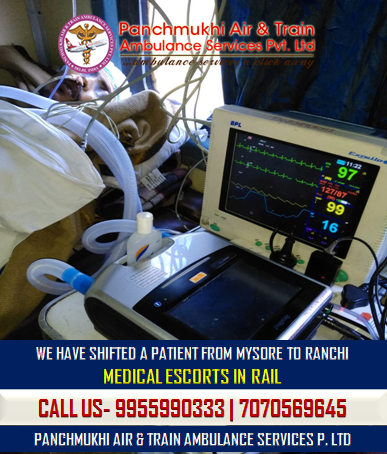 The need of the urgent transfer to the required hospitals at the right time is the requirement of the situation and the vital air ambulance service for the quick transfer is provided in the city Mysore by Panchmukhi Air & Train Ambulance Services. Call us for charter and commercial air ambulance service from Mysore. You can shift your patient from Mysore to any place in India with our best medical team. Recently we have shifted a patient from Mysore to Ranchi in Rail ambulance with hi-tech medical equipment.
We provide medical escorts service in train ambulance from Mysore and provide world class charter air ambulance from MYSORE to save life of patient. Complete bed to bed transfer facilities.
We shift many patients from Mysore by Charter Air Ambulance and Train Ambulance:-Click on Images and See