Bhopal Air Ambulance Services by Panchmukhi Medical Team
The captivating blend of the natural and manmade beauty is the capital city of Madhya Pradesh widely known as Bhopal. It is the political and economic centre in the state. The historical charm and the beauty lie in the endless urban development and planning done by the experts. The rapid and incredible industrial development has lured the thousands of the migrants from the various corners of the nation in the search of the source of income for a healthy and happy life. The city also makes the arrangement of air ambulance services at affordable cost by the well-known companies like Panchmukhi Air & Train Ambulance Services.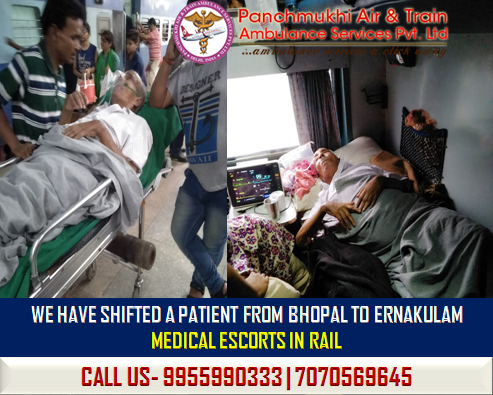 Now Low Cost Air and Train Ambulance Services in Bhopal
We shift many patients from Bhopal by Charter Air Ambulance and Train Ambulance:-Click on Images and See
The number of the working professionals has been increasing at unbelievable rate over the time due to the all-round growth witnessed by the cities in the state. Bhopal has realized the limitless importance and the need of good health related modern facilities used by the medical experts all over the world. All the necessary steps are being taken to improve the medical standards for the better comfort of the users. There are many private players engaged in facilitation of the modern and scientific equipment required for the advanced remedial treatments. The arrangement of the
low cost train ambulance services
and air ambulance services is also made by the dedicated facilitators including
Panchmukhi Air & Train Ambulance Services and others in Bhopal.
Get
charter air ambulance in Bhopal
with best medical team.
Hire Air Ambulance Service Delhi
to Bhopal with Best Panchmukhi and Global Air Ambulance medical team.