The Unavoidable And Hi-Tech Air Ambulance Services In Guwahati
The importance and the necessity of the wide variety of the health services are continuously increasing not only in Guwahati but across the country over the time due to the growing population. The growing percentage of the different kind of accidents, incidents & health related problems has resulted in the increasing demand of the various highly developed and the latest medical treatment facilities. It is certainly true that the expenses involved in the various remedial procedures including air ambulance services is generally higher and is not easily affordable for the common people.Considering the high-priced involved in the remedial emergencies, Panchmukhi Air & Train Ambulance Services Pvt. Ltd brings to you the essential patient transfer modes at a very affordable cost in the advanced city Guwahati,Assam.
We shift many patients from Guwahati by Charter Air Ambulance and Train Ambulance:-Click on Images and See
Panchmukhi – The Best Air and Train Ambulance Service in Guwahati
The cities like Guwahati have observed good industrial development and revolution resulting in the generation of good percentage of the earning opportunities. It has given scope of livelihood not for the employees working as full or part timer but also to the businessmen, traders, entrepreneurs and self-employed people in the different corners of the city. To facilitate the cutting-edge patient transfer in the condition of the medical emergencies from one place to another, one hospital to another, and even one state to another state within the nation, the most dependable and preferred ambulance services company Panchmukhi Air & Train Ambulance Services has expanded its operation in the every corner of India.

We have shifted a Patient from Guwahati to Delhi in Train Ambulance:-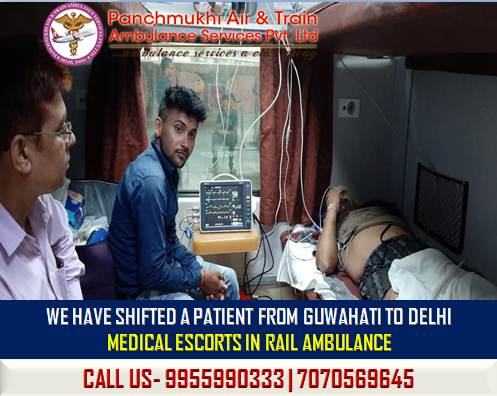 Book the air ambulance and train ambulance services in from Guwahati to Chennai, Air and Train Ambulance from Guwahati to Delhi  and shift your patients at low cost made available by the only responsible service provider Panchmukhi Air & Train Ambulance Services.
We provide air ambulance and train ambulance facilities from Guwahati to anywhere in India. Shift your patient in Train Ambulance from Guwahati to Chennai, Train Ambulance from Guwahati to Delhi. For quick service take our charter air ambulance.