Home Nursing Care is Available 24/7 Hours in Patna, Bihar
Home Healthcare is one of the best and most convenient health care human being services where the needy get each health care conservation and treatment under his roof by the expert medical team unit (ICU Specialist MD doctors, Paramedics, Nurses, Medical Staffs) with the essential and required equipment' assistance. Panchmukhi Home Nursing Care in Patna is an emerging and innovative ICU care and CCU care services for the serious ones at their respective homes round the clock 12/24 Hours Services Availability.
Panchmukhi ICU Care at Door Step in all locality in Patna facilitates all the healthcare issues related to the patients or sick persons such as- Looking for Post-Surgical Care, Elderly Care, Chronic Care, and Tracheotomy, Urinary Catheterization Care, Wound Care, Injections, IV Infusions, Vaccinations or Other Nursing Assistances by providing Highly Qualified and Experienced Nurses and paramedics at home time to time Supervised by the specialist doctors, physicians facilities.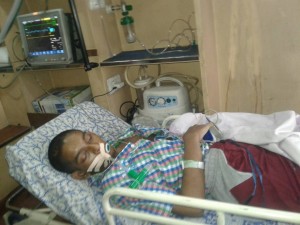 Panchmukhi Healthcare at Home in Patna always provides the serious or chronic patients at their respective homes some advanced health caring facilities such as-
Family like touch care medical facility and treatment
To avoid prolonged or repeated hospitalization movement by providing the same kind
To facilitate the diversity of hospitals' environment independently at home care
To diminish the hospital cost burden from guests' expenditures by 20% – 50%
Provide all the health care treatment facilities like Wound Dressing, Vital Check, Vaccination, Ryle Tube Insertion, Nebulization, Suction, Injection, Infusion, ICU Care, ECG Electrocardiography, Oncology, Catheterization, Expert Care, and Respiratory Management etc.
We provide->
HOME HEALTHCARE ATTENDENT
HOME NUSRING CARE
HOME DOCTORS SERVICES
OXYGEN REQUIREMNET AND CARE
HOME ICU -> LONG TERM VENTILATION AT HOME, TRACHESTOMY CARE AT HOME, TOTAL PARENTAL NUTRITION,
STROKE REHABLITTATION AT HOME – COMPLETE HOLISTEC APPROACH
HOME PHYSIOTTHEREPY CARE
METERNITY CARE AT HOME-MOTHER AND NEWBORN CARE
GRIATRIC (ELDERLY) CARE AT HOME
POST OPERETIVE CARE AT HOME
PELIATIVE CARE AT HOME
CANCER CARE AT HOME
VACCINATION AT HONE
MEDICAL EQUIPMENT AT HOME
HOSPITAL PICK UP AND DROP
LAB TESTING & HOME SPECIMEN COLLECTION
MEDICINE DELIVERY AT HOME
We provide home nursing care at home in all locality of Patna like Boring Road, Kankarbagh,, Rajendra Nagar, Raja Bazar, Bailey Road, Ashokraj Path, Gaighat, Kurji, Sipara, Danapur and etc…